Dear Members,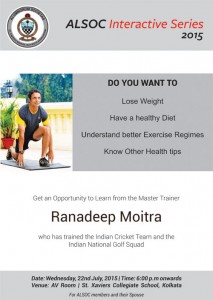 ALSOC is looking forward to reconnect with old friends to the July issue of the ALSOC Interactive Series in 2015.  The sessions intends to bring together the Xaverian fraternity to a common platform of learning being inspired by some of the most prolific speakers in the field of performing arts, management, medicine and sports.
The eminent speaker for the event is Mr. Ranadeep Moitra, a certified strength and conditioning specialist from the National Strength and Conditioning Association of America. He is also a Corrective and Clinical exercise specialist from The American Council on exercise.
Mr. Moitra is a C.H.E.K Institute Certified Exercise Coach and Golf Bio-mechanist. He has worked with the Indian Cricket Team in the year 2004-05 and the East Bengal Football Team in the years 2005-06. He was the chief fitness consultant with the Indian Football Academy from 2006 to 2008. At present, Mr. Moitra works with the Indian Golf Union and trains the National Golf Squads. He is the founder of Endorphins, a corrective exercise studio since 2009
We are sure that you will certainly mark this day in your calendar to walk down the memory lanes to come together with your teachers, mentors and not the least, your friends and colleagues. The session shall be preceded by some refreshments.
Date of event: 22nd July, 2015
Start Time: 6.00 PM
Venue: A. V. Room, St. Xavier's Collegiate School
RSVP: ALSOC Office :22875735