"There is an old proverb that says 'Early to bed and early to rise makes a man healthy, wealthy and wise. On Sunday, 4th January, 75 of us, from ages 6 to 60, were all up and ready at 6.30am, sipping delicious tea and eating samosas outside the North Point Police Station, waiting to go for a walk through the history of Calcutta, organised by the "Family Series" Wing of Alumnorum Societas, the alumni of St. Xavier's Collegiate School. I knew this was going to be a memorable experience, and, although apprehensive, I was extremely excited about the walk, and walking with some of the families of ALSOC members, and the Reverend 'Fathers'.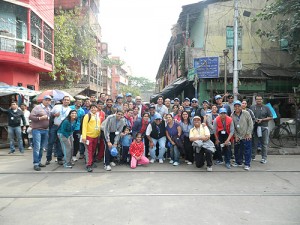 Punctually, at 7am, the walk began. Divided into 3 groups by our experienced guide, Ifti, we got an introduction to the city and how fortunate we are to have the fruitful Hooghly river flowing through. Our first stop was the Zenana Ghat, just below the Howrah Bridge. The stop here gave us spectacular pictures with the bridge and the river in the background. We could feel the freshness of the morning air, and the early rays of the rising sun. We also witnessed a wrestling enclosure, with the wrestlers showing off their muscles and tricks. We then saw the Lohaghat, and were fascinated by the ancient iron pillars. After hanging around these places for a while, we reached the flower market, which is a revelation in itself. The sheer beauty of the flowers left us all mystified, and the quantity and variety of flowers sold here, left us jaw-dropped. We then climbed up from the Flower Market and reached what was my best part of the walk, crossing the extraordinary Rabindra Setu, the busiest cantilever bridge in the world. The sheer feeling of walking across the Howrah Bridge, no matter how many times we had done it before, was awesome. The slight movement of the bridge every time a car passes leaves behind a feeling of its own, and the views from atop are indescribable.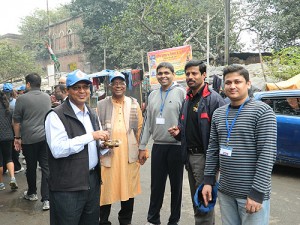 We then reached the Ahiritalla Ghat via ferry where the exotic local 'Litti' and famous Tulsi tea were waiting for us. After these delicious refreshments, we moved on to Kumartulli the last stop, where the skilled Artisans work on the famous idols made of clay; an entire abundance of the Saraswati Idols just strewn around, was a real treat to the eyes. With this and some delicious fresh 'gur ka sandesh', our amazing and memorable 3km long walk, the 7th most famous walk of India, came to an end.

Most of us, in spite of living in Kolkata, had never visited these places and this walk gave us a chance to catch a glimpse of this. I would strongly recommend readers to take this walk if they get a chance.
CHINMAYA NATHANY