Dear Members,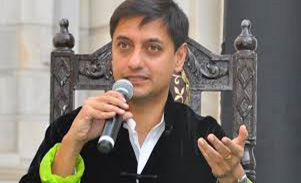 It is our immense pleasure to invite you for the ALSOC Interactive Series, 2018. These sessions intend to bring together the Xaverian fraternity to a common platform of learning and being inspired by some of the most prolific speakers in the field of Economics, literature, environment, urban theorists etc.
The eminent speaker for the event is Mr. Sanjeev Sanyal, Alumnus of our School, Batch of 1987 and Life Member of ALSOC, currently Principal Economic Adviser in the Ministry of Finance, Government of India. He is one of Asia's leading economists and was Deutsche Bank's Global Strategist and Managing Director till 2015.
A Rhodes Scholar and Eisenhower Fellow, he was named "Young Global Leader 2010" by the World Economic Forum at Davos.
Your presence shall make the event a grand success.
Date: 9thMarch, 2018
Time: 5:30 PM: Fellowship over tea at the Main Parlour
6:00 PM: Open House Meeting -Interactive Session with Mr. Sanjeev Sanyal
Venue: Xavier Hall
We look forward to your active participation for this session.
Thank you,
Aditya Vikram Lodha
Hon. Secretary